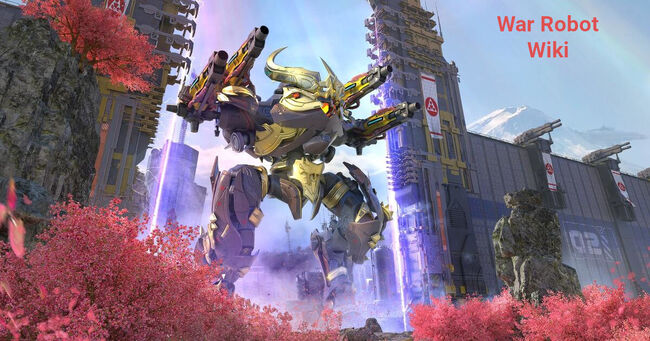 The Unofficial Wiki dedicated to the online robot combat game created by Pixonic.
Available on: iOS, Android, Amazon, My Games, and Steam.
Be sure to check out: War Robots Forum and the War Robots Reddit!
Status Effects page moved to Effects, go check it out!
Notice: Try not to use examples of robots or weapons etc. when making a strategy as the meta will change. Something that may be a formidable hit-and-run unit may be nerfed into a rusty pile of scraps the next year, and so the examples will be outdated and have to be changed.
The Game
War Robots (formerly Walking War Robots) is an online multiplayer combat game developed by Pixonic, in which players pilot giant robots (Mechs) in either 6 on 6, or 6 player free-for-all matches, lasting up to 10 minutes, on random detailed maps, competing for either beacon control or total destruction of the enemy.
The Wiki
This Wiki's purpose is to provide a collaborative encyclopedic repository for everything related to the game, War Robots. Here you will find a community of dedicated players sharing hints and tips about the game, and information on the various Robots, Equipment, Modules and Maps!
New to War Robots? Then perhaps you should start by taking a look at our Guides, Features, and Useful Blogs.
Want to share an awesome idea for a robot? A weapon? Or even a new game feature?
If so, check out the User Ideas page, a place dedicated to the users of this wiki.
The Test Server
On Saturdays and Sundays be sure to try out the War Robot's Test Server! Here you can test out robots and equipment (and more!) that Pixonic has in store for the game's future (see here for details).
Thank you to all who are maintaining this wiki!

995 Articles and 352,119 edits since Aug 15, 2014.
______
WE ARE NOT PIXONIC!______
-
Admins of this wiki do not have any direct affiliation with War Robots!
Please Remember, that this is a community run wiki and is not owned or operated by Pixonic. The Wiki Admins & Rollbacks are NOT Pixonic Employees. Please do not post feedback, game problems, or ask for non public information such as the next event date.
Found a bug? Found a hacker? Got banned? Lost event xp/prize? We can not help & nothing will be done. To get help report it to Pixonic directly at [1]