Lua Script Error Detected
Major Maintenance
in progress
Major Maintenance
in progress
Have you visited my profile page?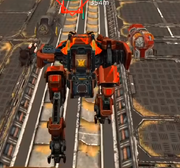 Welcome to my profile page! I'm RR77WR. The "WR" in my username stands for War Robots, for your information. I also have a War Robots YouTube channel, called "RR77 [WR]" - not "RR77WR". I am, well, obviously, an avid War Robots player. I have an alternative account called SpinoVoid - I used to use that account as my main account on this wiki, but then the account ran out of username changes. So, I use this account instead.
My History on FANDOM
So, I am not sure, but I think I joined FANDOM mid-2017 (around the June mark), with my other account, called SpinoVoid, on this wiki. Then I visited lots of other wikis, and I got used to source editing, linking, partial CSS elements and other things. Though I joined FANDOM on the 14th of October 2019 with this account, I am still an experienced FANDOM user, because of SpinoVoid. So technically, I have been on FANDOM since 2017.
Fun Facts!
I have won a Lancelot from a silver chest (100 keys).
I am known to immediately quit matches if I see a Shocktrain Spectre or Leech. 
I have been playing War Robots since it came out (May-June  of 2014, around 1 or 2 months after the game was released.)
I have won two Orkans from a bronze chest (10 keys).
Things I Like In War Robots
Things I Dislike In War Robots
Pay-2-Win players
Shocktrain Spectres. I have done this about 12 times: Whenever I see a Shocktrain Spectre in any game mode, I immediately quit the match.
My Dream Hangar
All weapons, robots, modules and etc are maxed out to Level 12 MK2. Though I do not have these robots or weapons, some of my own robots and weapons are similar.
Hangar 1 - Brawling Hangar: Bulwark (x2 Avenger, Feng paint job), Galahad (x2 Gust, x1 Storm, Oathbreaker paint job), Haechi (x3 Orkan, Dragon Tail paint job), Rhino (x2 Punisher T, x2 Magnum, Guerilla paint job), Lancelot (x1 Ancile, x2 Taran, Golden Bear paint job).
Hangar 2 - Beacon Control Hangar: Loki (x3 Sting), Phantom (x1 Corona, x2 Halo), Strider (x1 Ancile, x2 Gust, Taipan paint job), Jesse (x2 Punisher, x2 Pinata, Major paint job), Gareth (x1 Orkan, x1 Pinata, Death Knight paint job).
Hangar 3 - Support Hangar: Raven (x2 Shocktrain, x2 Marquess, Goldfinch paint job), Mender (x1 Scourge, x2 Spark, Qilin paint job), Spectre (x4 Ion, Hornet paint job), Fury (x1 Ancile, x2 Chimera, Naval paint job), Griffin (x2 Pulsar, x2 Spiral, Blue Hex paint job).
Hangar 4 - Sniper / Long-Range Hangar: Behemoth (x4 Trebuchet, Loader paint job), Gl. Patton (x4 Arbalest, Spartan paint job), Raijin (x2 Flux, Blue Mitsudomoe paint job), Weyland (x1 Ancile, x1 Kang Dae, Ao paint job), Doc (x4 Ballista, Major paint job).
Hangar 5 - Mixed Fun Hangar: Stalker (x2 Punisher, Toro paint job), Spectre (x4 Vortex, Neon paint job), Golem (x1 Thermite, x1 Vortex, x1 Aphid, Phoenix paint job), Hover (x2 Taran, x1 Magnum, Arid paint job), Mercury (x1 Ancile, x2 Blaze).
Community content is available under
CC-BY-SA
unless otherwise noted.