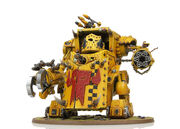 Yo. Welcome to the user page. I've been playing WR for 4 years. 
I'm not a P2Wer.  ... Okay, I may have spent a little.  I plan on not spending any more money. Hopefully. If things go right. Gosh darn Pixonic. IDs: IDSMITG: HKBCIX
Hangar
- Ranks are based off how long I have been using them. NOTE: As of May 2020, this first hangar is my IOS hangar, which I am no longer able to use. The second is my Android hangar, which I have not used long enough to provide ranks for the bots yet.
Hoover (7) - 2x Storm (7/7) 1x Halo (8)
-Captain- The Hover is my Beacon Capper. It replaced my Leo, which I will always love. It may not always be my best robot, but it's certainly the most fun bot I've ever played. Nothing can compare to jumping from building to building and getting to previously unreachable places.  
Fury (8)-   3x Trident (8/8/8)
- Colonel - The Fury is my Mid-Ranger. I can often keep it alive for most of a batlle. It is a massive pain in the @-$-$ to fight against, as you can't ignore the blast like Hydras, but you can't just charge to get me because there are closer targets that are higher priority. Plus, it's Tridents.
Black Widow Raijin (9)- 2x Avenger (9/8)
- Major- I find a place where enemies come. I put up my shield. I start shooting my buffed Avengers. Accelerated fire kicks in. Nuts and bolts litter the battlefield.
Natasha (9) -    2x Flux (4/4) 2x Gekko (7/8)
- Leiutenant  - The Natasha is fairly new to the hangar. It's a great long-ranger and trolls people quite well.
Lancelot (7)-   2x Orkan (8/8) Exodus(6) 
- Major - This replaced my Tarancilot after I realized that I didn't have any DBs. Very fun to use.

Fujin (6) - Ivory Scourge (4) Molot T (6/6)
- A nice mid-ranger. The molots do far better than I thought they would. Would still love to replace them with more scourges though.

Leo (6) - Thunder (5) Punishers (6/6/6)
- Tough to take down, but thats about it. Want to replace it with something else, but dont know what. Will probably keep it for a while.
Ravana (5) - Storms (5/5/5)
- As of this writing, very overpowered. Massive close-range damage and incredibly difficult to defeat. Love it!
Natasha (6) - Trident (6) Freedom Avalanche (5) Pins (5/5) -
Good mid-range burst damage. The pins suck and I hope to replace them with Shredders. Maybe I'll replace the trident with another Avalanche.
Ranks
Private
Corporal

Leiutenant
Warrant Officer
Captain
Major

Colonel

General
Armed Forces Commander
Things I Want To Get in 2020
1. Behemoth 0/1
2. Shredders 0/2
3. Blitz 0/1
4. Gust 0/4 (oof)
5. other stuff
Dream Hangar
Mercury - Avenger/Ember 2 Halos
Ao Jun - 2 Embers
Blitz - 4 Rimes
Behemoth- 4 Avengers
Ravana - 3 Cryos
Things I Really Hate
Griffins
Hydras (to fight, not to play)
Cancerous Setups (Don't hate Shocktrains, Don't Hate Spectres, Hate when used together)
Things I Hate to Admit I Like
Spydra Griffin
Zenit Fury
Noricum Patton
The Reserves
Lvl. 10 Gl. Patton - Armed Forces Commander
Lvl. 7 Leo - General
Lvl 1 Galahad - Private
Lvl. 5 Rogatka - Corporal
Lvl 5 Butch - Lieutenant
Lvl. 1 Jesse - Private
Lvl. 6 Leo - Private
Lvl. 7 Gareth - Captain
Lvl. 4 Cossack - Lieutenant
Lvl. 4 Gepard - Corporal
Lvl. 3 Boa - Lieutenant
Lvl. 7 Doc - Major
Lvl. 6 Griffin - Corporal
Lvl. 6 Natasha - Private
Polls
Do you think I should create a Clan Wikia for IOS?
Do you think I'm a good Mod?
Which is the best Dash Bot?
Would you use a Spectre if you had it?             
Community content is available under
CC-BY-SA
unless otherwise noted.