Fire Emblem Warriors: Three Hopes - The Loop
Play Sound
THIS PAGE HAS BEEN LOCKED


ONLY REGISTERED MEMBERS MAY ADD CONTENT TO THIS PAGE
Lua Script Error Detected
Main article: Game Mode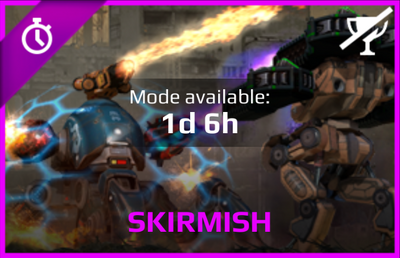 Introduction
The Skirmish game mode is a recurring, limited-time game mode that allows players to use a preset hangar, leveling the playing field. Some hangars may equip weapons not normally possible for those bots - such as a triple Ember Galahad, or a quad Thunder Patton.
Tactics and Strategy
In this game mode, everyone has the same robots to choose from. This levels the playing field in terms of bot level, making skill and tactics much more important. Choosing specific bots to try and counter those of the enemy is frequently a good idea. Ranges are commonly very similar, so support play styles can be more difficult.
In this game mode, pay attention to what bots are good at and what they are equipped with. Fujin has an Ancile, but if all enemy bots have plasma weaponry then this will be of limited utility. Additionally, in this game mode you are much more likely to go up against a setup identical to your own - know your own weaknesses, and use those against your enemy.
Additional Information
The Skirmish game mode only contributes to clan tasks, Honor Points and silver. Repairs in this mode are free. The game mode runs for 3 days at a time, on a weekly basis (Thursday-Sunday).
Skirmish is not available to squads. It is also the only game mode to ignore the player's league during matchmaking, thus allowing Bronze and Silver league players to face off against Master and Champion league players. Considering that the main reason for separating the players is the strength of their equipment, this actually makes sense.
According to Pixonic, Skirmish will remain as a separate game mode for the foreseeable future, due to an extremely large number of player requests.
Hangar List (Archived)
Note: This list is no longer being updated.
May 2019
April 2019
March 2019
February 2019
January 2019
December 2018
November 2018
October 2018
September 2018
August 2018
July 2018
June 2018
May 2018