THIS IS A COMMUNITY PAGE


IT IS OPEN TO EDITS FROM ANYONE
Lua Script Error Detected
| | | |
| --- | --- | --- |
| " | Do you sometimes feel overwhelmed by the enemy and in need of an ally? Then bring Sharpshooter into battle with you. It can shoot and look good while doing it! | " |
— in-game description
| | | |
| --- | --- | --- |
| << PREV | Sharpshooter | NEXT >> |
No microchip installed
A-type: effects
No microchip installed
No microchip installed
Arms Controller type
B-type: attack
Link 3D Model (external site)
Introduction
The Sharpshooter Drone is a Tier 3 Drone introduced in Update 6.3.0 that can install up to 2 Microchips, including one Arms Controller. The Drone can hold up to 24 Energy.
Built-in Weapon
The Sharpshooter Drone comes built-in with 1 energy autocannon that fires continuously when the commander is locked-on to an enemy robot which is in range of the Sharpshooter Drone. The energy autocannon deals info needed damage per shot while firing info needed shells per second. Its energy autocannon has a range of info needed.
Microchip Summary
Press Down Arrow Button to View the Components of each Slot. Hover over individual Components to view each.
3D Model
Gallery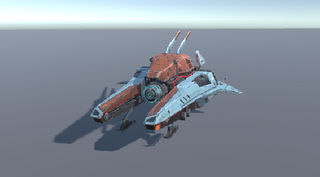 Update History
Version
Changes
7.0.0
Now comes with fixed microchip slots
Energy capacity removed
Built-in drone ability added
Microchip slots cut in half
6.6.0
Now comes with fixed energy capacity
Power Cell activation cost removed
6.3.0
Drone was added to the game