"Premium" is bought with real money.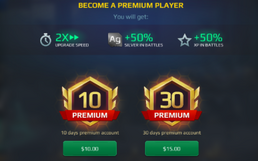 Becoming a Premium player gains you the following benefits:
50% more silver per match.
50% more experience points per match.
2X Upgrade Speed
You can buy these benefits for a limited period of time, after which you will need to purchase again to keep premium status.
£8.85 ($10.00) for 10 days premium status.
£13.28($15.00) for 30 days premium status.
(Premium is not to be confused with premium robots, which are bought with gold and do not need premium status to buy them.)