Lua Script Error Detected
Major Maintenance
in progress
Major Maintenance
in progress
"Premium" is bought with real money.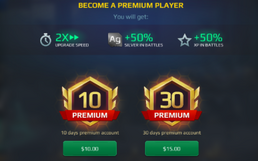 Becoming a Premium player gains you the following benefits:
50% more silver per match.
50% more experience points per match.
2X Upgrade Speed
You can buy these benefits for a limited period of time, after which you will need to purchase again to keep premium status.
£8.85 ($10.00) for 10 days premium status.
£13.28($15.00) for 30 days premium status.
(Premium is not to be confused with premium robots, which are bought with gold and do not need premium status to buy them.)
If there is an upgrade running by the time you upgrade to premium the membership will not speed up the time required to complete that upgrade.
It is advised to start a premium account before you start a new upgrade to take proper advantage of the membership.
Community content is available under
CC-BY-SA
unless otherwise noted.