Fire Emblem Warriors: Three Hopes - The Loop
Play Sound
See also: Special Events
Introduction
Operation: Dark Nebula started on February 14, 2020. It is the fourth operation. Operation: Cold Snap was the third operation of December 13, 2019.
The primary goal is to earn as much Operation Experience (OXP) before it ends. You can earn OXP by completing honor point tasks during a match and completing the daily OXP task found in the operation. The higher your league is, the more OXP you can earn per match.
When you reach the maximum capacity of an operation level, you get a prize in the Free Pass. You can also pay real money to unlock the Premium Pass (or paid pass) to get access to another line of rewards, which are usually double or tripled by what you get in the Free Pass (ex. free pass; level 1 awards 1 million silver whereas the premium pass; level 1 awards 2 million silver).
While the Free Pass ends at level 80, the Premium Pass ends at level 100.
The Operation lasts for 60 days.
You must be pilot level 19 to participate in Operation: Dark Nebula.

OXP Requirements
Oxp Level Requirements

| 1- 10 | 11- 20 | 21- 30 | 31- 40 | 41- 50 | 51- 60 | 61- 70 | 71- 80 | 81- 90 | 91- 100 |
| --- | --- | --- | --- | --- | --- | --- | --- | --- | --- |
| 400 | 700 | 1,000 | 1,300 | 1,750 | 2,300 | 3,000 | 3,600 | 4,300 | 4,700 |
  If you complete the free for all players track and Operation pass, you will receive the following rewards:
Possible Payouts
Prize track free and paid
Dark Nebula
Free Pass
Paid Pass
Total
Ag
22 Mil
83 Mil
105 Mil
Au
790
5,750
6,540
Tokens
Platinum
Powercells
4,200
17,800
22,000
Keys
420
3,550
3,970
Weapons
2 x Stellar Halo
1 x Spark
2 x Stellar Halo
1 x Spark
Boosters
35
104
140
Components
2,000 Scourge
2,400 Corona
10 k Spark
7,000 Scourge
6,600 Corona
9,000 Scourge
8,800 Corona
10 k Spark
Pilot
2 x Regular
1 x Legendary
3 x Legendary
2 x Regular
4 x Legendary
Paint Jobs
2 Reg Skins
4 Leg Skins
2 Reg Skins
4 Leg Skins
Robots
1 x Cerberus
1 x Hades
1 x Stellar Phantom
1 x Cerberus
1 x Hades1
1 x Stellar Phantom

Complete Daily Challenge to earn more OXP: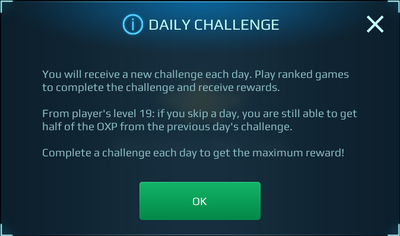 Prize Track
}}

Gallery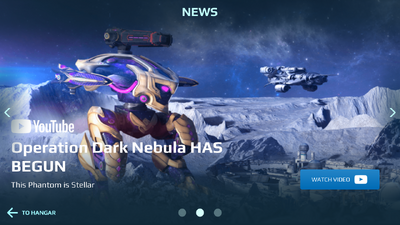 Video Gallery