Arcane: League of Legends - The Loop
Play Sound
THIS IS A COMMUNITY PAGE


IT IS OPEN TO EDITS FROM ANYONE
Lua Script Error Detected

"…Long-range energy weapon that hits enemies with a laser beam. Dangerous at long range, but ineffective against targets with physical shields. Open its potential in open spaces…" – in-game description
Purchase Information
In-Game Cost
750
Real Value
None
Exp Level
4
Type
Hardpoint
Light
Tier
I
Base Statistics
Attributes
Level
5
Energy




Damage
157 per charge
Manual




Range
1,100 meters
Automatic




Reload
11 seconds
RWF




Capacity
Clip: 30 charges
Burst: 42 charges




Unload
Clip: 3.57 seconds
Burst: 5 seconds



Introduction
The Gekko is a long-range (up to 1,100 meters) light energy weapon.
Strategy
This long-range laser weapon is the light version of the Flux. In battle, a Gekko can force enemy units under cover, as many players do not appreciate a solid beam of light hitting their robot. It can also penetrate energy shielding.
While one Gekko can deal decent damage when highly upgraded, they are much more powerful in clusters of two, three, or even four, or when paired with the Flux. A dedicated robot carrying two to four Gekkos can severely damage an enemy. However, it is known to be an inferior weapon in close-range combat. Thus, it is a good strategy to target enemy robots in an open location where there is no available cover for them to hide behind.
It is recommended that the Gekko is used similarly to how one might use a Molot, although with much longer range.
The open fields of Springfield, Yamantau, and Canyon are prime locations for this weapon.
Pros and Cons
Pros
Energy attribute allows it to penetrate energy shields
1100-meter range allows it to engage in gunfights without fear of retaliation
Charge-based reload-while-firing clip allows it to reload at any given time
Great at sustained combat
Cons
Ineffective at close range against specialized brawling weapons
Ineffective against physical shields
Overall DPS isn't too good
Takes a while to reload to full charge
Upgrade Cost
Tier 1
Mk 1
Level
Upgrade cost
Upgrade time
HH:MM
1
0
00:00
2
10,000
00:05
3
20,000
00:30
4
40,000
01:00
5
200,000
04:00
6
400,000
08:00
7
800,000
12:00
8
1,500,000
16:00
9
3,000,000
20:00
10
5,000,000
24:00
11
8,000,000
26:00
12
13,000,000
28:00
Totals
Cost
Time [DD:HH:MM]
31,970,000
04:19:35

Tier 1
Mk 2
Level
Upgrade cost
Upgrade time
HH:MM
1
0
00:00
2
250,000
03:00
3
500,000
05:00
4
1,000,000
08:00
5
3,750,000
15:00
6
3,750,000
15:00
7
3,750,000
15:00
8
3,750,000
15:00
9
3,750,000
15:00
10
3,750,000
15:00
11
3,750,000
15:00
12
3,750,000
15:00
Totals
Cost
Time [DD:HH:MM]
31,750,000
04:16:00
Weapons data
5
Gekko
In the workshop Yes or No
Energy




Manual




Automatic




RWF










Particles
Ammo
Rate of Fire
Unload
Reload
Shot Interval
Tier
Version
Slot
Type
Trajectory
1
30
1
3
11
.10
1
6.7
Light
Energy
Straight
MK 1
MK 2
Damage per shot
Damage per magazine
DPS
Damage per particle
Damage per shot
Damage per magazine
DPS
Damage per particle
1
304
9120
3040
3040
2
310
9288
3096
3096
3
315
9456
3152
3152
4
321
9624
3208
3208
157
4710
1570
1570
5
326
9792
3264
3264
172
5160
1720
1720
6
332
9960
3320
3320
189
5670
1890
1890
7
338
10128
3376
3376
208
6240
2080
2080
8
343
12096
3432
3432
229
6870
2290
2290
9
349
10464
3488
3488
252
7560
2520
2520
10
354
10632
3544
3544
277
8310
2770
2770
11
360
10800
3600
3600
304
9120
3040
3040
12
360
10968
3656
3656
| MK3 | Damage per shot | Damage per magazine | DPS | Damage per particle |
| --- | --- | --- | --- | --- |
| | {{{mk3shot1}}} | {{{mk3magazine1}}} | {{{mk3dps1}}} | {{{mk3particle1}}} |
Audio
Update History
Version
Changes
4.8.0
Total Upgrade Time: 6 days 22 hours⟶5 days 14 hours
4.7.0
Total Upgrade Time: 8 days 9 hours⟶6 days 22 hours
4.5.0
Now available for 750 gold (can no longer be produced via Workshop 2.0)
4.2.0
Price changed from 750 gold to 10,000 Components (same value)
4.0.0
Total Upgrade Cost: 38,150,000 Ag⟶31,700,000 Ag
Total Upgrade Time: 10 days⟶8 days 8 hours
3.1.0
Damage reduced by 5%
New laser colors
Its sound effects change in tone as it upgrades, becoming deeper as the level increases.
2.9.3
Damage increased by 25%
2.9.0
New design
2.5.0
Damage increased by 15%
0.9.1
Damage increased by 10%
0.9.0
Now deals maximum damage regardless of how many lasers are installed on a robot
0.6.1
Weapon was added to the game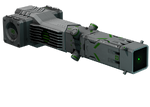 Poll
Trivia
In previous versions, the function of the Gekko was to "heat" up its target. This translated into the longer it fires upon the target, the hotter it got, and the more damage it dealt.
After the color change, the palette now resembles the true visible light spectrum in the correct order; violet, blue, green, yellow, orange and red. 
The Gekko has no medium counterpart.
This weapon was added on September 6, 2014.
After the War Robots Remastered Update, the colors are all red instead of multicolored