See also: Special Events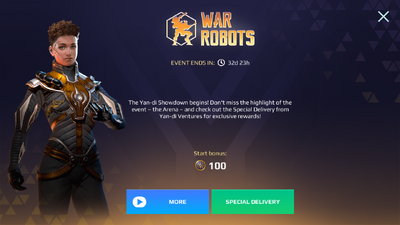 This is the third special event of 2020.
Yan-di Showdown 2020
Here it is time for the next special event for War Robots. Starts May 28, 2020.

This is a timed event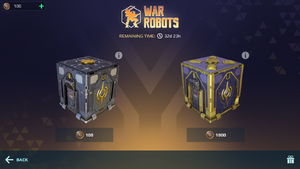 New Feature
Unique to this anniversary event you get two crates to choose from. You can either spend 100 tokens and get items listed at the bottom of this page, or spend 1000 tokens and open the second crate also listed at the bottom of this page.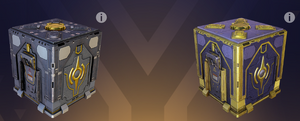 Optional
You have the option to use real money to buy Tokens/Coins for a chance to win more prizes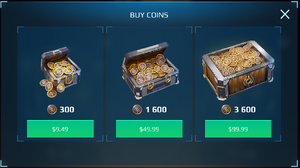 Tasks
You are given a maximum of three tasks to complete to earn tokens.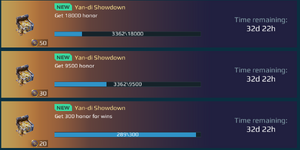 Prizes
Coming Soon will be special keys to unlock one of two crates and win prizes.
During this event, you can earn Yan-di tokens by completing event tasks. Then you can use those tokens to open Special Delivery crates to get the following prizes:
Prize List (100 Tokens)
Ivory Atomizer
Nucleon
Quarker
Ivory Ravana
Overdrive Unit
Ivory Scourge
Nightingale
Atomizer
Arnav Poe
Virginia Walker
Last Stand
Prize List (1000 Tokens)
Nodens
Cataclysm
Cyclone
Self-fix Unit
Ao Ming
Arthur
Cuirassier
Gendarme
Tsar
Rupture
Antimatter Reactor
Plated Armor Kit