See also: Special Events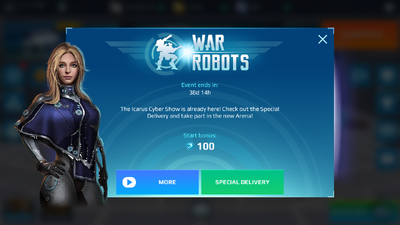 Icarus Cyber Show is a special event of 2020.
Icarus 2020
Here it is time for the next special event Icarus cyber show for War Robots. Starts March 06, 2020.
This is a time-limited event, which usually last for about a month. This event is proceeded by Icarus Cyber Show 2
Optional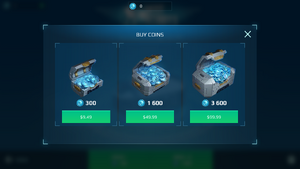 You also have the option to use real money to buy Tokens/Coins for a chance to win more prizes from the event chest.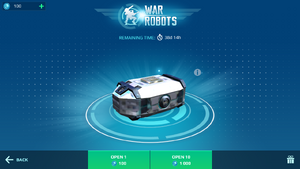 Tasks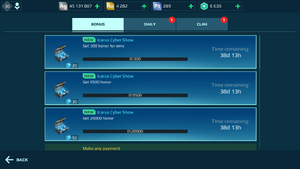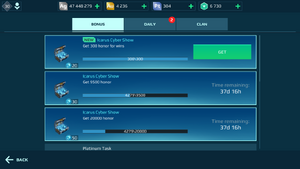 In every special event, there will be 3 event tasks that will award a certain amount of Tokens/Coins:
20,000 Honor Points for 50 Tokens
9,500 Honor Points for 30 Tokens
300 Honor Points for Wins for 20 Tokens
Watch 1 advertisement for 10 Tokens (available only for IOS and Android)
Complete all above tasks to open a chest.
Prizes
Like other event chests, the Icarus Cyber Show awards the newest robots/weapons as well as new paint jobs, new special pilots, multiple modules, robot/weapon components, and resources.
Here is a full list of possible prizes that are able to be won through a chest:
If you have any tokens left over from the event after it has ended, it will be traded in for a prize a few days after the event..