See also: Special Events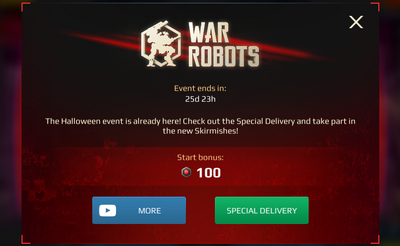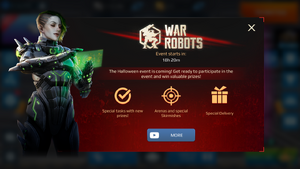 This is the first special event documented here and more to come. both present and past events.
Halloween 2019
Here it is time for the next special event Halloween for War Robots. Starts October 23, 2019.
This is a timed event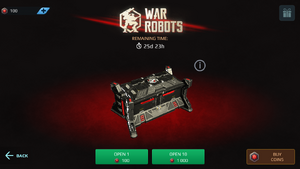 Optional
You have the option to use real money to buy Tokens/Coins for a chance to win more prizes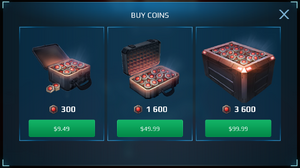 Prizes
Coming Soon will be special keys to unlock the Halloween chest and win prizes.
During this event, you can earn halloween tokens by completing event tasks. Then you can use those tokens to open Special Delivery Chests to get the following prizes:
Pic
Prizes
Rarity
Percentage of Receiving it
Sinister Cryo
Rare
15%-30%
Sinister Glacier
Rare
12%-28%
Sinister Rime
Rare
17%-29%
Alien
(Loki Paint-Job)
Uncommon
48%-68%
Soultaker
(Hades Paint-Job)
Uncommon
33%-72%
Ruthless
(Mercury Paint-Job)
Uncommon
45%-63%
Leech
Rare
5%-21%
Thomas Mindread
(Leech Pilot)
Rare
13%-24%
Phantom
Rare
10%-23%
Behemoth
Rare
9%-25%
1,000 Phantom Components
500 Phantom Components
1,000 Leech Components
Uncommon
47%-62%
500 Leech Components
Uncommon
47%-62%
3,000 Power Cells
Uncommon
74%-78%
1,500 Power Cells
Common
89%-92%
1,000 Gold
Uncommon
45%-79%
500 Gold
Uncommon
59%-75%
300 Gold
Common
86%-94%
Animated Picture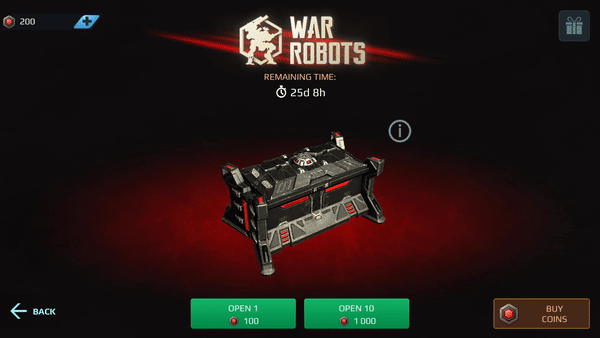 Video Section
| | |
| --- | --- |
| BLOOD-CHILLING ADVENTURES OF WAR ROBOTS Halloween Trailer 2019 | War Robots, Halloween Skirmish 2018, Trick-or-Treat |
| War Robots — Halloween 2017 Guide | War Robots Halloween 2016-0 |
Community content is available under
CC-BY-SA
unless otherwise noted.