See also: Special Events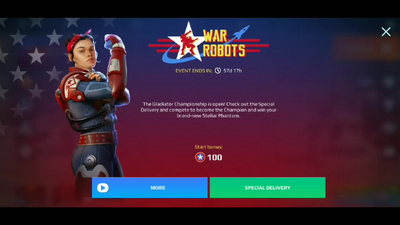 This is the third special event of 2020.
Gladiator Championship 2020
Here it is time for the next special event for War Robots. Starts July 04, 2020.

This is a timed event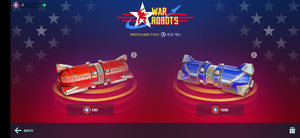 New Feature
Exclusive to this event is the fact that you can obtain two different chests, one revolving around standard robots and weapons and one revolving around Titans, which cost 100 and 1000 tokens respectively. Also unique to this event are three special tasks, which offer you two Stellar Halos after you come out top in 30 Arena matches, and offer you one Stellar Phantom upon playing 70 Arena matches (also in the top three).
Optional
You have the option to use real money to buy Tokens/Coins for a chance to win more prizes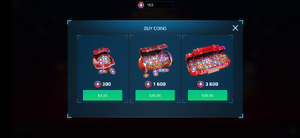 Tasks
You are given a number of tasks to complete to earn tokens, equipment, robot, or platinum.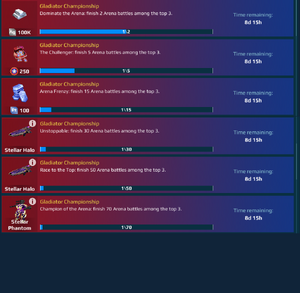 Prizes
During this event, you can earn tokens by completing event tasks. Then you can use those tokens to open Special Delivery crates to get the following prizes:
Prize List (100 Tokens)
Scorpion
Iskra Pilot
Scarab Leech
Futuristic Nucleon
Futuristic Quarker
Ivory Atomizer
Cloaking Unit
Overdrive Unit
Pharaoh Scorpion
Prize List (1000 Tokens)
Nodens
Cataclysm
Cyclone
Titan Accelerator
Self-fix Unit
Ao Ming
Arthur
Cuirassier
Tsar
Rupture
Antimatter Reactor
Plated Armor Kit