Main article: Game Modes
Introduction
Starting at player level 10, players have a second option available to players upon selecting the shield icon. This mode allows players to choose their own battles and game modes. with both your own robots or the ones already provided by pixonic. and make teams of various sizes (up to 6) out of specific (not random) players as well as their own map and game mode.
See also: Hangar X
More Information
Custom Games will not give rewards for any player, but on the bright side, all repairs are free. This also means that it won't affect your gameplay level or give you
Silver
,
Gold
, Workshop Points, Influence Points, Activity Points or
event tokens
and won't complete tasks.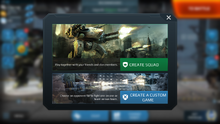 This mode allows you to create unusual games, such as 1 v 5, or even exploration of the map as a lone player.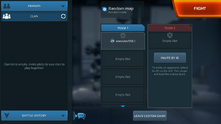 The interface is similar to Squad Battles but has another column for the enemy team, which can serve as "practice rooms" for clans and challenge experienced players into fighting you.
This can also allow for specific, pre-defined matches against players, such as weapon restrictions, "use only the robots in this package", etc., as well as completely unusual battles (e.g. someone with two "best" robots in their hangar fighting 5 light robots).
Community content is available under
CC-BY-SA
unless otherwise noted.