Fire Emblem Warriors: Three Hopes - The Loop
Play Sound
THIS PAGE HAS BEEN LOCKED


ONLY REGISTERED MEMBERS MAY ADD CONTENT TO THIS PAGE
Lua Script Error Detected
---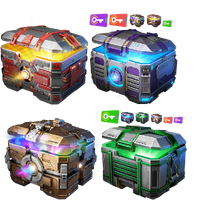 Introduction
The Black Market is a feature that allow you to open chests with unused Black Market keys. The keys either be purchased with real currency or earned in battle. The number of keys earned per battle is based on how well you played (ranging from 1 to 5 keys).
Black Market keys cannot be "gifted" to a friend or clanmate.
There are three types of standard chests: Bronze, Silver, and Gold, costing respectively 10, 100, or 1,000 keys to open. With Bronze giving the least valuable rewards, and Gold giving out the best of the three.
A special Superchest is automatically opened after opening a certain number of standard chests (the better the chest opened, the quicker you progress towards the Superchest), giving superior rewards. You can keep track of how close you are to opening the Superchest by keeping an eye on the progress bar on the top of the screen.
Rewards
Prizes can range from silver and gold to robots and weapons. The more expensive the chest the better the rewards.
Bronze Chest
Cost to open: 10 Black Market keys
Rewards:
Silver

10,000 / 15,000 / 25,000
Gold

5 / 10 / 15
Keys

8 / 20 / 100
Boosters

Damage Increase

Durability

Ability Cooldown

Shield Durability
Powercells

200 / 900
Platinum

25 / 50
Dreadnought A42

Dreadnought 50 components

Dreadnought 100 components
Silver Chest
Cost to open: 100 Black Market keys
Rewards:
Silver

100,000 / 200,000
Gold

30 / 70 / 100
Keys

1000
Boosters

Silver
Powercells

1000
Modules

Fortifier

Balanced Unit

Overdrive Unit

Cloaking Unit

Thermonuclear Reactor

Battle Born

Anticontrol

Heavy Armor Kit
Paintjobs

Anthracite (Shell)

Raider (Typhon)

Savage (Shell)

Brave (Orochi)

Norse (Fafnir)

Freedom (Demeter)
Legendary Pilots

Jerry Fortune

Kyle Rogers (Hawk)

Linda Cano (Shell)

Louis Duncan

Boris Crow

Basil Lapatte

Jack Moore

Alex Werner
Weapons

Sinister Rime

Sinister Cryo

Sinister Glacier

Blaze
Gold Chest
Cost to open: 1,000 Black Market keys
Rewards:
Silver

10,000,000
Gold

1000

5000
Keys

9000
Platinum

100
Powercells

5000
Legendary Pilots

Ash Skarsgard

"Ghost"

Rose Lin

Midea Nerium

Bernadette Wolff

Raphael Petit

Johanna Flynn

Adrian Chong

APPM-3TR
File:Pilot legend dewtompkins.png
Drew Tompkins

Manni
Weapons

Magnetar

Lunar Squall

Calamity

Hornet

Scatter

Incinerator

Wasp

Krait

Snaer

Striker

Ember

Spark

Scald

Devastator

Hel

Lunar Grom

Cataclysm

Scorcher

Skadi

Cyclone

Igniter

Pulsar

Scourge
Modules

Cannibal Reactor

Nitro Unit

Quantum Sensor

Last Stand

Nuclear Amplifier
Super Chest
Super Chest unlocks after a specific number [about 8000] of keys have been spent to open the other chests Rewards:
Titans

Sharanga

Nodens

Ox Minos
Robots

Techno Scorpion

Ivory Ravana

Typhon

Fafnir

Freedom Fafnir

Shell

Dread Shell

Demeter

Sheriff Demeter

Orochi

Megalodon Orochi

Warrior Typhon

Crimson Hawk
Compensation
Every month (approximately 28-30 days) the Black Market resets. Any unused keys in your inventory automatically convert into a loot prioritizing most valuable chests. For any number of keys fewer than 10 keys 1 Bronze chest will be opened. For example, for 1991 keys the following chests will be opened:
1 Golden chest (1,000 keys),
9 Silver chests (9 x 100 keys)
10 Bronze chests (9 x 10 + 1 key [rounds up])