Lua Script Error Detected
Major Maintenance
in progress
Major Maintenance
in progress
---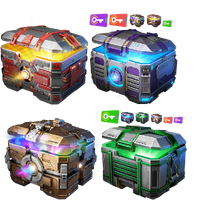 Introduction
The Black Market is a feature that allow you to open chests with unused Black Market keys. The keys either be purchased with real currency or in battle. The amount of keys earned per battle is based on how well you played (ranging from 1 to 5 keys).
Black Market keys cannot be "gifted" to a friend or clanmate.
There are three types of standard chests; Bronze, Silver, and Gold, costing respectively 10, 100, or 1,000 keys to open. With Bronze giving the least valuable rewards, and Gold giving out the best of the three.
A special Superchest is automatically opened after opening a certain amount of standard chests (the better the chest opened, the quicker you progress towards the Superchest), giving superior rewards. You can keep track of how close you are to opening the Superchest by keeping an eye on the progress bar on the top of the screen.
Rewards
Prizes can range from silver and gold, to robots and weapons. The more expensive the chest the better the rewards.
Bronze Chest
Cost to open: 10 Black Market keys
Rewards:
Silver

10,000 / 15,000 / 20,000
Gold

5 / 7 / 10
Keys

10 / 20 / 100
Boosters

Damage Increase

Durability

Ability Cooldown

Shield Durability
Powercells

100
Microchips

Phasing Renovator

Recurrent Emergency Defender

Control Resistor

Modulative Intensifier
Silver Chest
Cost to open: 100 Black Market keys
Rewards:
Silver

100,000 / 200,000
Gold

30 / 70 / 100
Keys

1000
Boosters

Silver
Powercells

1000
Robots

Fury

Lancelot

Ao Qin

Butch

Leo

Griffin
Paintjobs

Kylan (Raven)

Neon (Spectre)

Arctic (Haechi)

Praetorian (Falcon)

Marine (Inquisitor)

Silver Fortress (Bulwark)
Legendary Pilots

Kyle Rogers

Michelle Dubois

Adam O'Leary

Tal Mokri

Ariadne Shaw

Cormac de Vos

Tobias Mwangi

Amalia Itegumo
Drone Blueprints

Sidekick

Defender

Fly

Discus
Microchips

Control Resistor

Resurgent Intensifier

Inhibited Defender

Recurrent In-trouble Repairer
Gold Chest
Cost to open: 1,000 Black Market keys
Rewards:
Silver

10,000,000
Gold

1000

5000
Keys

9000
Platinum

100
Powercells

5000
Legendary Pilots

Bernadette Wolff

Kyle Rogers

Yang Lee

Clive Vicious

Thomas Mindread

Virginia Walker

Iskra

Arnav Poe
Weapons

Volt

Weber

Gauss

Quarker

Atomizer

Nucleon

Rime

Cryo

Glacier

Blaze

Igniter

Ember

Spark

Scourge

Calamity

Marquess

Hussar

Redeemer

Viper

Wasp
Modules

Thermonuclear Reactor

Overdrive Unit

Anti Control

Last Stand

Battle Born

Fortifier

Heavy Armor Kit

Cloaking Unit
Drone Blueprints

Good Guy

Sharpshooter
Super Chest
Super Chest unlocks after a specific number [about 8000] of keys have been spent to open the other chests Rewards:
Titans

Nodens

Ox Minos
Titans Equipment

Cyclone

Cataclysm
Robots

Hawk

Jaeger

Techno Scorpion

Ardent Blitz

Skydriver Nightingale

Scarab Leech

Ivory Ravana

Nightingale

Scorpion

Ravana

Leech

Blitz
Compensation
Every month (approximately 28-30 days) the Black Market resets. Any unused keys in your inventory automatically convert into a loot prioritizing most valuable chests. For any number of keys fewer than 10 keys 1 Bronze chest will be opened. For example, for 1991 keys the following chests will be opened:
1 Golden chest (1,000 keys),
9 Silver chests (9 x 100 keys)
10 Bronze chests (9 x 10 + 1 key [rounds up])
Community content is available under
CC-BY-SA
unless otherwise noted.