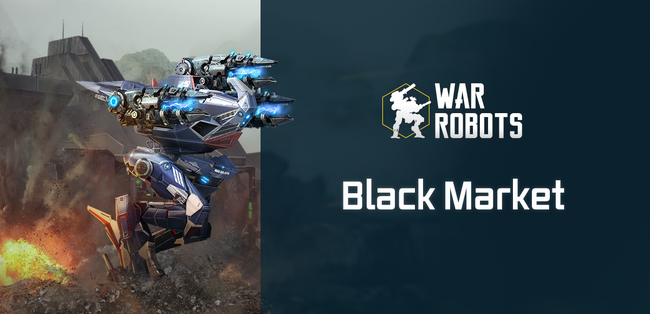 See also: Features
Introduction
The Black Market is a feature that allow you to open chests with unused Black Market keys. The keys either be purchased with real currency or in battle. The amount of keys earned per battle is based on how well you played (ranging from 1 to 5 keys).
Black Market keys cannot be "gifted" to a friend or clanmate.
There are three types of standard chests; Bronze, Silver, and Gold, costing respectively 10, 100, or 1,000 keys to open. With Bronze giving the least valuable rewards, and Gold giving out the best of the three.
A special Superchest is automatically opened after opening a certain amount of standard chests (the better the chest opened, the quicker you progress towards the Superchest), giving superior rewards. You can keep track of how close you are to opening the Superchest by keeping an eye on the progress bar on the top of the screen.
Rewards
Prizes can range from silver and gold, to robots and weapons. The more expensive the chest the better the rewards.
Bronze Chest
Cost to open: 10 Black Market keys
Standard rewards:
Other:
10 Black Market Keys
20 Black Market Keys

Top Reward:
Silver Chest
Cost to open: 100 Black Market keys
Standard rewards:

Top Rewards:
Gold Chest
Cost to open: 1,000 Black Market keys
Standard rewards:

Intermediate reward:

Top rewards:
Superchest
Rewards:
Compensation
Every month (approximately 28-30 days) the Black Market resets. Any unused keys in your inventory automatically convert into a loot prioritizing most valuable chests. For any number of keys fewer than 10 keys 1 Bronze chest will be opened. For example, for 1991 keys the following chests will be opened:
1 Golden chest (1,000 keys),
9 Silver chests (9 x 100 keys)
10 Bronze chests (9 x 10 + 1 key [rounds up])
Community content is available under
CC-BY-SA
unless otherwise noted.